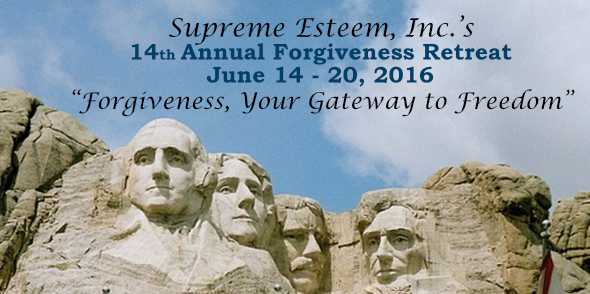 Still here spreading the Good News that the Power of Forgiveness heals, prospers, and renews every aspect of your life, world, and affairs, the Supreme Esteem, Inc. Ambassadors and President Jacqueline Hazél continue this quest in South Dakota and they invite you to come along!
Not to mention shopping and having dinner at a National Treasure like Mount Rushmore, also, be ready to enjoy 9 other tours which includes visiting the Black Hills Gold Factory and enjoying the Main Street Square's Summer Nights event!
BEGIN MAKING PAYMENTS TODAY!
For the amazing package price of $3,000, expect round trip airfare from Fort Lauderdale (price varies, if departure city is not Fort Lauderdale), double room occupancy, daily breakfast, one lunch, one dinner, 9 tours, all sessions and materials, retreat souvenirs, one optional individual session and so much more! A non-refundable deposit of $500 must accompany your registration form. The final payment is due by April 15, 2016. No refunds after March 1, 2016. Add $50 plus (+) possible package increase, if final payment is made after April 15, 2016. Payments between due dates are accepted. You Are Responsible For Gratuities and Travel Insurance. You may purchase a Travel Protection Plan at www.ytbtravel.com/Jhazel
Click here to download the Supreme Esteem Mount Rushmore Retreat flyer
CLICK BELOW TO BEGIN MAKING PAYMENTS TODAY! ONLINE PAYMENTS VIA PAYPAL