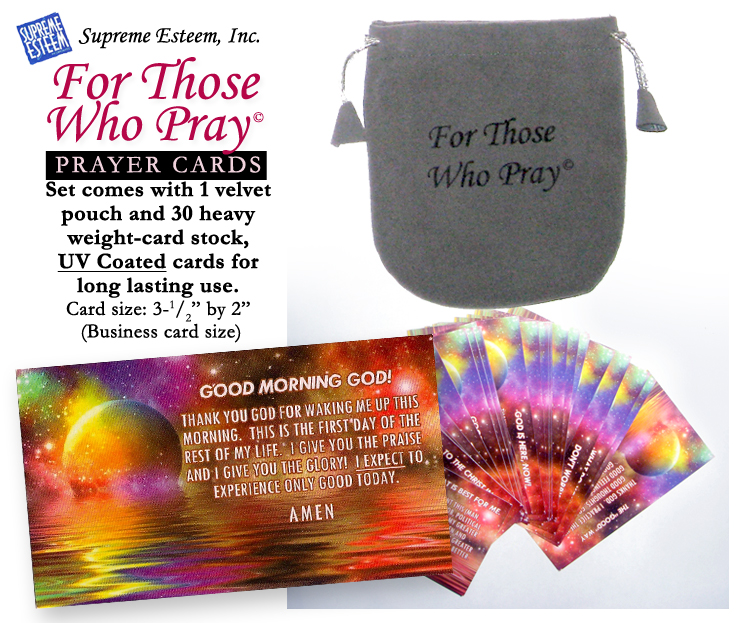 Supreme Esteem, Inc. "FOR THOSE WHO PRAY" Prayer Cards and Pouches
Product Description: I asked God to reveal to me a product that would not only speak to individuals, but also to groups. The title "FOR THOSE WHO PRAY" came forth. This product is a collection of 30 cards; prayers, affirmations, meditations, scriptures, and inspirational messages. These selections are printed on 3-1/2″ by 2″ (business card size), UV coated for long lasting use, heavy weight cards.


Order Now (U.S. Residents) Cost: $15 + $4.50 Shipping & Handling
Order Additional Pouches Cost: $15 + $1.75 Shipping & Handling (Only select this option if you have already chosen a pouch and want to add another one to your basket)
Order Now (International Residents – Coming Soon)
Package Description:
They are packaged in different color, draw string, velvet pouches. ( a. Black w/Gold Print, b. Gold w/Gold Trim, w/Dark Blue Print, c. Grey w/Black Print, d. Pink w/Silver Trim, w/Green Print, e. Purple w/Gold Print, f. Red w/Silver Trim, w/ White Print, g. Red w/White Print, h. White w/ Silver Trim, w/Dark Blue Print, i. White w/Dark Blue Print.) Our current stock includes FOR BROTHERS WHO PRAY and FOR SISTERS WHO PRAY. The sister pouches have either gold or silver trim, as seen in the product picture.

Suggested Use:
Begin your day reading a different card. If this is not your issue , pray for the uplift of those who may have concern in this area.
Carry a few cards that stand out for you. Reflect on them morning, noon, and night.
Select a card that addresses an experience you are having. Meditate, Concentrate, and/or just read regularly, until you know that God is in control, and not you.
Share a card with someone who you feel may benefit from its message.
As part of your daily prayer work, read all the cards.
GREAT GIFT IDEA FOR:
ANNIVERSARIES
BAR MITZVAHS
BIRTHDAYS
CHRISTMAS
INSPIRATION
KWANZAA
THINKING OF YOU
WEDDINGS
ETC., OR JUST TO GIVE SOMEONE A SPIRITUAL UPLIFT!