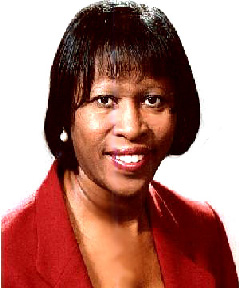 Jacqueline Hazel

President, Supreme Esteem Inc.
"The Forgiveness __ Forecast Announcer"
_________________________________________________
Ms. Jacqueline Hazel originates from Gary, Indiana, Her undergraduate and graduate Degrees are from Purdue University in the areas of Child Development/Family Life and Counseling and Student Personnel Services respectively. Ms Hazels' professional career had its beginnings in the residence hall systems with the University of Nebraska, the University of Delaware and the University of Miami. Because of the positive impact she had on these institutions, Ms. Hazel was selected as Director of Housing for Florida Memorial College and later Adjunct Professor.
Ms. Hazel has worked for Dade County Public Schools in various capacities, such as Director of Student Activities, Guidance Counselor, Teacher and TRUST Specialist (Drug Abuse Counselor). Ms. Hazel is known for her keen organizational skills, quick intellect and high principles. Her working style can be summarized as a visionary who has the unique ability to mold and shape an idea to actual reality.
Some of her awards and honors are Who's Who Among American Teachers, TRUST Specialist of the Year, Who's Who of International Entrepreneurs and Outstanding Woman of America Award. She is a member of Alpha Kappa Alpha Sorority, Inc., Past President of the Board of Directors of Florida Memorial College Upward Bound Program and member of Florida Speakers Association.
Ms. Hazel is dedicated to the growth and development of people of all ages she takes particular interest in working with today's youth. She is often quoted stating: "I Believe In You - Reach For The Top And Never, Ever Quit !"
Ms. Hazel has more than (25) years of speaking experience in the areas of self-esteem, drug abuse and professional/staff development. Whether keynote address, retreat or seminar Ms. Hazel brings integrity, contagious enthusiasm and an act now attitude to any environment.
You can also listen to Ms. Hazel in her weekly radio spot "The Forgiveness Forecast" on WMBM 1490 AM (via the internet, www.WMBM.com) in Miami on Mondays, Wednesdays, and Fridays at 4pm. In this new powerful media Ms. Hazel delivers a thought provoking message about how individuals can have deliverance and empowerment through the process of forgiveness.
________________________________________________